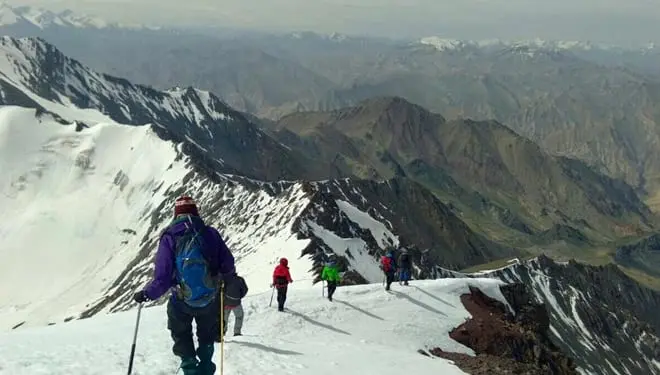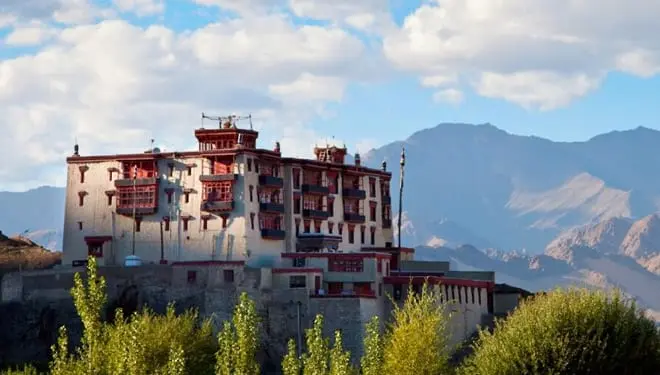 Stok Kangri Trek
The Stok Village is one of the oldest regions in Ladakh and is surrounded by the Stok Kangri range, Markha and Indus valleys. It is majorly famous for high mountain peaks and trekking trails across Ladakh. The highest trek in the Stok Kangri range is the Stok Kangri trek. Located at an elevation of 20187 ft, Stok Kangri peak is the highest mountain peak in the Stok Range of the Zanskar Range.
Stok
Stok village is located 14 km from Leh and has many attractions. The Stok Monastery which was built in the 14th century is the main tourist attraction in Stok. Another major attraction in Stok is the Stok Palace Ladakh. Many tourists also visit the Markha Valley for its beauty and serenity.
Places to Visit in Stok
Stok Palace
Built over 200 years ago by King Tsespal Tondup Namgyal, Stok Palace was the home of the royal family of the Namgyal dynasty. The palace was under the Namgyal dynasty until the Sikh general Zorawar Singh invaded Leh.
Currently, this magnificent palace is turned into a heritage hotel. The descendants of the king still reside here.
Stok Museum
Stok Museum is situated at the Stok Palace itself. This museum is filled with artefacts and relics related to Ladakh old monarchy. The museum has preserved the royal seals, ancient coins, regal costumes, precious jewellery and photographs as old as 400 years. Visitors can also explore the ancient warfare equipment of the kingdom of Ladakh.
The Queen's headpiece – Yub-Jhur or Perak which is said to be 1000 years old is displayed here. It consists of 401 lumps of uncut coral, turquoise, gold nuggets and other gems. Tourists can also witness the one of the kind artefact – the knotted sword which is said to be bent by King Tashi Namgyal's oracle.
Stok Monastery
Stok Monastery which was founded by Lama Lhawang Lotus dates back to the 14th century. It follows the Gelugpa (Yellow Hat) sect of Buddhism and has an assembly hall, a courtyard, a verandah, temples, chortens and a library. The monastery has some of the oldest paintings of Avalokitesvara, Vajrapani, Tara (the Saviouress), Shakyamuni (historical Buddha), Namgyalma and Amchi (The Medicine Buddha). The library has 108 volumes of the Buddha's teaching which is one of the major attractions here.
Fairs and Festivals in Stok
Stok Guru Tsechu Festival
Stok Guru Tsechu festival is a 2-day celebration in the month of February before a week from Matho Nagrang festival. Spituk and Stok monasteries in Stok village Leh, participate in this festival by the unique performing mask dances. During this festival, two oracles visit the two monasteries who are appointed to receiving the spirits of the deities.
Tak-Tok Festival
During the summer months, the Tak-Tok festival is celebrated in the cave gompa of Tak Tok. It is celebrated in July and Chham dances are performed by both the monks and the local people.
Other Destinations in Ladakh