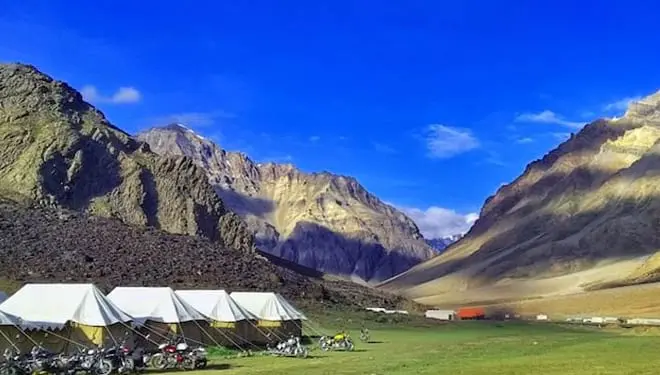 About Sarchu Tourism
Sarchu Tourism: Located on the border of Ladakh and Himachal Pradesh, Sir Bhum Chun or Sarchu is an important stopover for many tourists. Located between the Himalayan mountain passes of Baralacha La and Lachulung La, Sarchu is present at an elevation of 14,500 ft above sea level. This splendid region is the main point for many adventure activities as well as trekking and camping. It has a blend of the Ladakh and the Himachal landscape making it a picturesque sight
Sarchu
Sarchu also happens to be the starting point for many treks including the most famous Chandratal Lake trek. Other than trekking, tourists like to take a jeep safari and motorcycle tours to Leh and Ladakh.
Many tourists visit Sarchu for adventure activities and enjoy the challenges high altitude trekking and camping offered by the high mountain ranges like Zanskar. The temperature in Sarchu in winter can drop to -35 degrees Celsius.
Best Places to Visit in Sarchu
Tanglang La:
Located at a height of 17,480 feet, Tanglang La is one of the highest motorable passes in the world. This tourist attraction is famous for its incredible views and the sheer excitement to cross this pass. Tanglang La starts from Sebring to Gya and stretches up to 49 kilometres which have some of the deadliest turns like the Ghata loop. Tourists can experience the thrill offered by the sharp turns and twists while driving through this pass. It also offers a panoramic view of the mountain ranges and the valleys which can leave a long-lasting impression.
Tsarap Chu River:
The water melting from the glaciers of the Rupshu Plateau flows into the river Tsarap Chu. Later, the Tsarap Chu River flows into the Doda River through the Padum Valley and further joins the Zanskar River. This river flows along the Manali-Leh highway and has become one of the most famous tourist stops in Sarchu. This area serves as a base for many trekking destinations in the Zanskar region of Ladakh.
Chandratal Lake:

Chandratal Lake is one of the most famous trekking destinations for many campers and trekkers. Situated at an elevation of 14100 feet, Chandratal Lake sits perfectly on the Samudra Tapu Plateau. It is present in the Lahaul part of the Lahaul and Spiti and the many trekkers begin their trek from Sarchu. The route is filled with wild flora and fauna despite its inhospitable nature. The lake has its unique charisma which leaves all the trekkers and adventure junkies astonished.
Lachulung La:
Ladakh has many passes which apart from Khardung La or Baralacha La and Lachulung La is certainly one of the beautiful passes in Sarchu. Situated at an elevation of 16500 feet above sea level, Lachulung La attracts many tourists from across the country. Due to its altitude and inhospitable conditions, the pass is open for only four and a half months during summer for tourists. Tourists can take the Manali Leh Highway to witness this beautiful pass during the summers.
Other Destinations in Ladakh