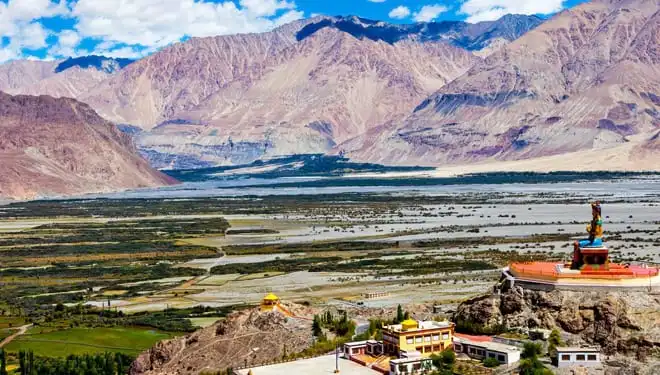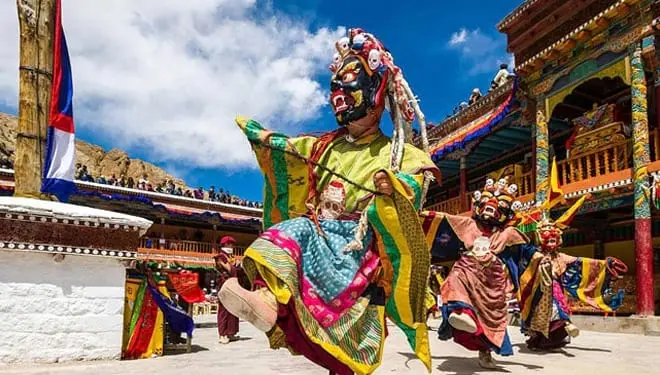 Nubra Valley
Whether you have toured Ladakh or not, if you haven't been a guest of Nubra Valley, you didn't see the soul of Ladakh. Approx. 160 km from Leh, Nubra valley nestled in the great Himalayas. The valley of sparkling white sand dunes is often referred to as a tri-armed valley because of its geographical composition.
Geographically, this valley aroused from the combined effects of Nubra (Siachen) and Shyok rivers and divides Ladakh from the Karakoram range. It is 3,000 meters above sea level. Physically, it is curled up on a higher altitude and hence, among the most exquisite places to be in Ladakh.
Nubra Valley: The valley of flowers
Nubra Valley fascinates travelers with its white sand dunes, rides on Bactrian (Double-humped) camels, snow-capped Himalayas, the magnificent statue of Buddha, several monasteries, and villages that reflect Buddhist culture, and much more. Because the local tribe, balti people are devoted to the age-old customs have managed to protect their culture all these years and speak their language, this place can also be referred to as the soul of Ladakh.
Moreover, if you can manage to take your tent, plan for a night camping at Nubra. The stars and Milky Way creates breath-taking views.
Places to visit in Nubra Valley
Don't just fill yourself with the delightful charm of Nubra valley. There are other places as well that will enchant you equally with their beauty. Let's find out those places below:
Samstanling Monastery: Settled at Sumur village, this monastery is the chief monastery of Nubra valley. The bright red, white, and golden paint of this monastery is the first thing that attracts visitors. Its fauna and tri-colored flags enhance the beauty and you will be captivated by the view.
Zamskhang Palace: By the word "Palace" anyone can guess that it may belong to the royals which are indeed true. This mansion was once owned by the royals of Nubra valley and a stopover will take you back to the time and help you connect with the past of the royal era.
Diskit Gompa:
This is a 13th-century monastery in Nubra valley and hence, one of the oldest and largest monasteries. You can enjoy a panoramic 360-degree view of Nubra valley from Diskit and therefore, the soul of this valley.
Panamik Village: This charming and serene village is the last tourist spot in Indian territory. There is a hot water spring that is believed to have healing properties. You wouldn't want to miss it at any cost.
Apart from these, there are other gem spots as well that you may visit such as Yarab Tso Lake, Hunder Sand Dunes, Ensa Gompa, etc.
Festivals in Nubra Valley
Silk Route Festival: The locals celebrate this festival in the month of June to showcase the culture and heritage of Ladakh. It includes handicrafts, food stalls, cultural programmes, traditional sports, camel safari, etc. You may also join this festival as a volunteer, make donation, get your company and help each other promote, etc.
Diskit Gustor Festival: "Victory of good over evil" is the motto of Diskit Gustor festival which is celebrated in October. You can see lamas wearing sacred masks and performing dance on traditional music along with cymbals, drums and long horns that is pleasing to ears.
Galdan Namchot Festival: Though this festival marks the beginning of the New Year in December, it is also commemorate about an eminent Tibetan scholar Je Tsongkhapa and his crucial role in the formation of the Gelug school of Tibetan Buddhism. Plan a trip to Ladakh and find out more about this festival.
Plan a trip to Nubra valley along with festival dates. It will give you an insight into the ancient culture of the locals and will help you connect with them better.
Other Destinations in Ladakh