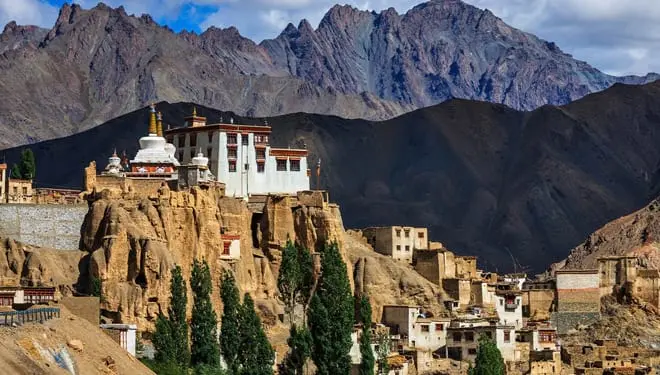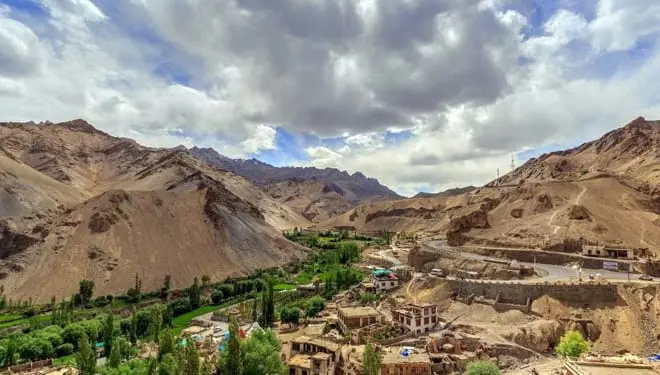 About Lamayuru Tourism
Lamayuru Tourism: Lamayuru is a tiny village and an offbeat destination in Ladakh. Located at a height of 3,510 meters and 127 km away from Leh on Leh Srinagar highway. Interestingly, this tiny village was founded by Mahasiddacarya Naropa in the 11th century. Locals here believe that this village was once a lake and later, it dried up.
Lamayuru: The Moonscape of Ladakh
Lamayuru is also known as Lamayuru Moonland because of its geographical formations. The texture of the mountains here resemble the craters on the moon and hence referred to as moon space.
Tourists usually plan a one day trip to Lamayuru from Leh to travel the lesser-explored region of Ladakh. The two major attractions of Lamayuru are the Lamayuru Monastery and the Yuru Kabgyat festival. However, there are quite a few places tourists can explore on the way to Lamayuru or Lamayuru to Leh.
Best Places to Visit in Lamayuru
The Lamayuru Monastery
The main attraction of Lamayuru is the Lamayuru Monastery. This monastery was founded in the 11th century by the scholar Mahasiddha Acharya Naropa. Also known as "the place of freedom" or "Tharpa Ling", Lamayuru Monastery is one of the oldest monasteries in Ladakh.
Lamayuru monastery is famous for accommodating over 150 monks of the Red-sect of the Buddhist order. Tourists can explore the history as well as the spiritual aspect of this monastery. The monastery hosts two annual festivals; it is advisable to book a package for a trip to Lamayuru on the eve of these festivals. The best time to visit Lamayuru Monastery is between April and August.
Uleytokpo
Uleytokpo is a small and picturesque town close to moonland Leh. This town is located at a height of 3,040 metres above sea level. Tourists can enjoy trekking in this lesser-known town and set a camp as well. Tourists can enjoy a phenomenal view from the resting point from the top of the hill.
Wanla Gompa
Located near Lamayuru, this beautiful monastery is a part of Lamayuru monastery. Tourists can explore the Buddhists spirituality and practice while visiting Wanla Gompa. The stunning view of the surroundings from this Gompa is another attraction for tourists.
On the way to Lamayuru, tourists can explore some famous tourist spots of Leh such as Pathar Sahib Gurudwara, Likir monastery, Alchi monastery, etc.
Fairs and Festivals in Lamayuru
Yuru Kabgyat
Yuru Kabgyat or also known as the Lamayuru Festival is the major festival of Lamayuru. It is usually celebrated in the second month of the lunar calendar and celebrated for 2 days. Buddhist monks from countries like China, Tibet, Bhutan, Korea and Japan visit Lamayuru to attend this beautiful festival. Tourists can enjoy the vibrant performances, traditional costumes and local food unique to this region. During this festival, locals perform a masked dance as they dress up in colourful dresses.
Hemis Tse Chu
Hemis Tse Chu is celebrated all across Ladakh every year, usually in the month of June. It is celebrated as the birth anniversary of Guru Padmasambhava and lasts for 2 days. Locals dress up colorfully and perform various art forms. Buddhist monks offer prayers and chant mantras during this festival. Although it is celebrated all across Ladakh, tourists can get to enjoy the distinct art as well as food from the Lamayuru region.
Plan a trip to Lamayuru to experience the unique moonland type geographical formations.
Other Destinations in Ladakh