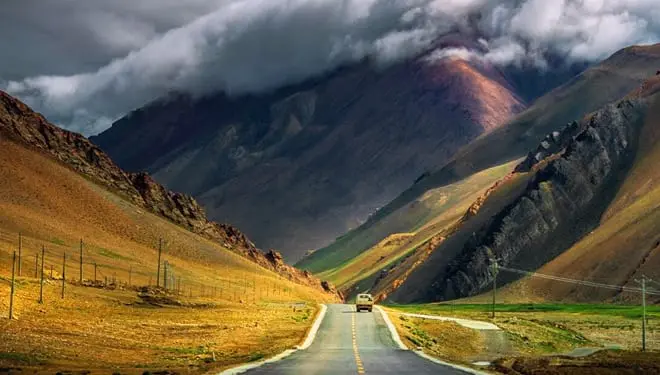 Drass Tourism
Drass Tourism: Located at an altitude of 10800 feet above sea level, Drass or Dras is an important region for India. It is situated in the Kargil District of the Ladakh Union Territory and is also known as the gateway to Ladakh.
The first point from the north of Drass is Zoji La Pass which connects Kashmir to Ladakh. It holds a significant position in history as during the Indo Pak War in 1999, Drass played a crucial role for the nation.
About Drass Tourism
Drass is known for its beautiful valley, snow-clad peaks and unique flora and fauna. The cold climate here makes it harder for habitation as the temperature in Drass coldest region falls to an average of -12 degree Celsius. The lowest temperature in Drass in winter can go as low as -17 degree Celsius. However, the summers are milder and are the best time to visit Drass.
Despite the heavy security across the valley, Drass definitely has a charm that attracts thousands of tourists from India as well as other countries. Tourists here can find a mixed culture of Buddhists, Hindus and Muslims. There are many monuments such as monasteries, temples and mosques as well for tourists to explore.
Apart from sightseeing in Drass tourism sector, tourists can enjoy trekking, mountain biking, river rafting and many other activities to bring out the adrenaline rush.
Best Places to Visit in Drass
Tiger Hill
Located at an elevation of around 5,307 meters above mean sea level, Tiger Hill is a mountain in the Drass Valley region serving as a gateway to Siachen Glacier. This hill is an important tourist destination in Ladakh and is famous for its climate, scenic view points and others.
Stagsboo
Just two kilometres before Drass, tourists can explore Stagsboo which has a series of images carved on stone blocks. It is believed that these carvings depict Maitreya and Avalokiteshvara.
Drass War Memorial
Drass War Memorial which is built by the Indian army is a tribute to the Indian soldiers who sacrificed their lives during the India Pakistan War in 1999. This is a must-visit place in Drass, Kargil which showcases the bravery of the soldiers on the battlefield.
Mulbekh Monastery Kargil:

Mulbekh Monastery is one of the famous attractions in Drass, Kargil. It is famous for the 30 feet tall statue of the Maitreya Buddha carved on a huge stone slab.
Ningoor Masjid
The Turkish blue and white combination of the Ningoor Masjid and the snow-clad mountains makes this a top place in Drass. It is believed that during the construction of this mosque, one of the walls was naturally raised.
Laser La
Laser La is a hidden gem of Kargil. Located 14 km from Drass, this hill station is less explored. Tourists can witness the milky white water flowing beside as well as the Laser La glacier.
Other tourist attractions in Drass: Minimarg, Amarnath, Matayen and trekking to Mushku Valley & Saliskot.
Fairs and Festivals in Drass
Saka Dawa
The festival Saka Dawa marks the birth of Shakyamuni (Gautama Buddha) after he attained enlightenment accompanied by Parinirvana. During this festival, the "Om Mani Padme Hum" mantra is chanted in this region.
Mamani Festival
Mamani Festival is a traditional food festival held every year during the month of January. The locals usually offer a dish or set of dishes to the holy spirit Lha (before the introduction of Buddhism). Tourists can enjoy several Ladakhi traditional dishes during this festival.
Other Destinations in Ladakh