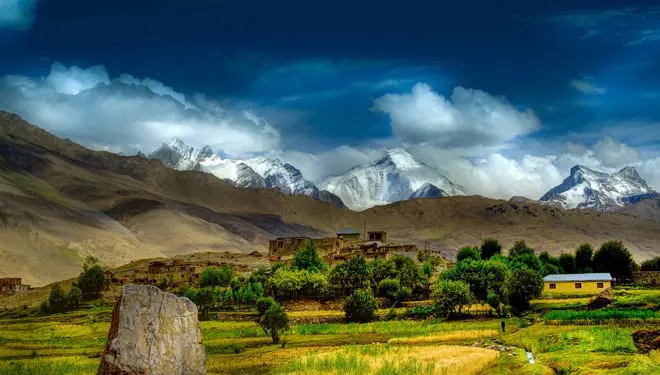 Suru Valley
Kargil to Suru Valley distance is approximately 40 km. The Suru Valley located on the banks of river Suru and the valley is renowned for its fertile land as well as the picturesque views. Geographically, Suru valley is brimming with a lush green landscape and heavily dense plantation. Tourists come from Kargil to Suru Valley for sightseeing opportunities, photography and spectacular views.
Suru Valley Ladakh
Suru Valley is located across the Pensi La on the Kargil Road where the Suru river originates at an average height of 3000 about sea level. Moving towards Ladakh, the valley has the most agriculturally fertile regions due to the Suru river. It separates Kargil from the Zanskar Valley here.
The descendants of Dard and Tibetans are found to be residing in the Suru Valley. It was ruled by the Purig kingdom in the 18th century followed by the Namgyal dynasty and then the Dogras.
Popular Tourist Attractions in Suru Valley
Sankoo
Shaped like a bowl, Sankoo is a famous spot in the Suru Valley. Filled with lush plantations of wild roses and other plants, Sankoo is an ideal picnic destination. The mountain range and the greenery gives it a look like that of Gulmarg and hence it is also known as "Ladakh's Gulmarg". Tourists can enjoy the stunning views of the Rocky Mountains while relaxing amidst the greenery.
Kartse Khar
Next, Kartse Khar, an unexplored Buddhist village is becoming a hotshot tourist destination in Ladakh. The roots of this village are said to be found way back to the 7th century. People from various places come here to check out the famous seven feet tall Buddha statue.
Panikhar

Built by Zorawar Singh, Panikhar is a beautiful fort that is almost a ruins now. It is a famous spot for enjoying spectacular views of the Nun-Kun mountain massifs. These two peaks are located at a height of 7035 and 7135 m above sea level respectively. Many adventure enthusiast trek for a day from Pursa to get the panoramic view of this massif.
Rangdum
The most unexplored region of Suru Valley, Rangdum is situated farthest from the main area. It is an extended oblique plateau where tourists can witness some incomparable views. This region has hills on one side and glaciers on the other making it an extraordinary sight.
Other Destinations in Ladakh