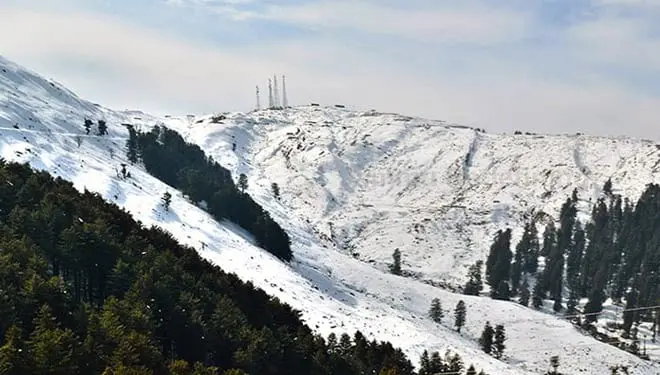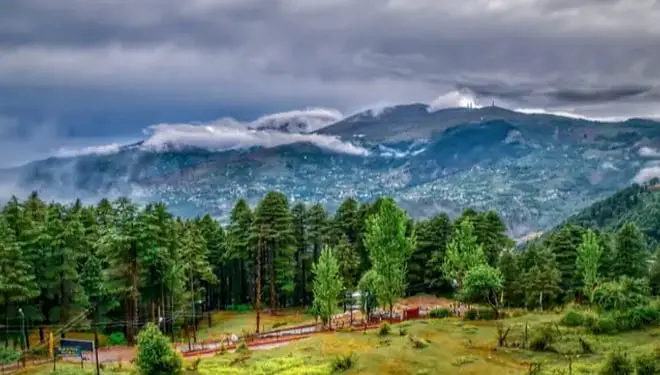 About Patnitop Tourism
Patnitop Tourism: Patnitop or also known as Patni Top is a very famous hill station in Jammu and Kashmir. It is located 112 km from Jammu on the Jammu-Srinagar National Highway. This plateau sits perfectly at 6640 ft in the Shivalik belt of the Himalayas. With endless meadows and panoramic views of the snow-capped peaks of the Himalayas, Patnitop is a beautiful place in Jammu. Alongwith with some of the most beautiful places to visit in Patnitop, it is also known for activities like skiing, trekking and water springs. Tourists here can enjoy several backdrops of the famous Chenab River with a thick-dense forest.
Patnitop
At Patnitop, there are three freshwater springs. In addition to this, Patnitop trekking destinations are very famous among the trekking community and tourists as well. Tourists from across the country come to witness the snowfall in winters alongside the captivating views of the PirPanjal range.
Get all the information you need to know about Patnitop tourism, its attractions, best places to visit in Patnitop and best way to reach. With our exclusive tour packages for Patnitop, you can be assured of a hassle-free trip whenever you want.
Best Places to Visit in Patnitop
Nathatop
Nathatop is located at an elevation of 8894 ft above sea level in Patnitop. This place is famous among tourists as a short trekking destination. Nathatop is a hill station with lush greenery with scenic views of snow-capped mountains. Nathatop's enticing views of the surrounding area make it on the top of Patnitop tourist sites. In addition to the views, Nathatop is also famous for adventurous activities like skiing and paragliding.
Sansar
Sansar, which is a popular hill station, is located 20 km west of Patnitop at a height of 9186 ft above sea level. The name of this place actually comes from two small villages Sana and Sar. In addition, Sansar Lake is a famous Patnitop hill station destination encompassing lush green deodar trees. Here, tourists can enjoy golfing around the golf ground, horseback riding on the slopes and paragliding from the top. Apart from that, tourists can visit the quaint 400-year-old temple – Shank Pal Temple dedicated to Nag Shank Pal.
Naag Mandir

Naag Mandir is one of the top places to visit in Patnitop located in the Mantalai district in the Kashmir region. This ancient temple has stood strong for the past 600 years. Naag Mandir is dedicated to Naag Devta. Hence, at this temple, the snakes are offered prayers and prasad. During Nag Panchami, devotees from various regions come here and offer milk and seek God's blessings. Additionally, it is also believed that Lord Shiva and Goddess Parvati got married here.
Billo Ki Powri
Billo Ki Powri is located in Kud town in Patnitop district. This ancient construction is carved out of a mountain. This beautiful tourist spot has a 270 steps staircase. At Billo Ki Powri, tourists can enjoy a beautiful view of Patnitop snowfall in winter. The belief is the former king of Chenani built this place during his reign.
Shiv Garh
Shiv Garh is 11 km away from Patnitop and is a popular trek base for many short treks.This quiet and peaceful tourist destination in Patnitop is covered with lush wooded pine forests. From Shiv Garh, tourists can get an amazing view of the famous mountain towns – Kud and Batote. Additionally, the route from Patnitop to Shiv Garh is astonishing as it is surrounded by the mighty Himalayas.
Best time to visit Patnitop
Patnitop is essentially a year-round destination due to its incredible weather.
The best time to visit Patnitop would be in summers during May-June and in autumn (September-October). The honeymoon season in Patnitop begins from October and lasts till February. It is also an excellent time for families to reconnect.
How to reach Patnitop
Flight
The nearest airport is Satwari Airport in Jammu at distance of 115kms and well connected with major airports in India. You can get a private cab from outside the airport which will take you to Patnitop in 4 hours.
Road
Patnitop is connected to all major cities of Jammu and Kashmir by State Highways. Frequent buses and taxis for Patnitop are available, especially from Jammu.
Train
The nearest railway stations are Jammu Tawi (117 km away) and the Udhampur Railway Station (46 km away). These railway stations are well-connected to all the major cities of India.