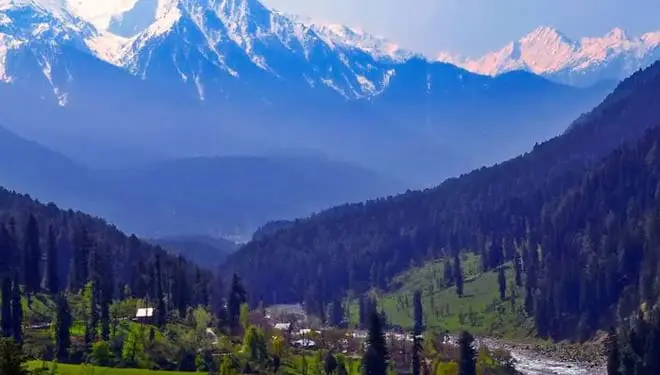 Pahalgam Tourism
Pahalgam Tourism: Pahalgam, famous as the Valley of Shepherds, is located at an elevation of 7200 ft above sea level. It is one of the top places to visit in Kashmir as it is a very famous hill station in the entire Kashmir region. In Baisaran which is also known as mini Switzerland in Pahalgam, many movies were filmed such as Betaab and Bobby. The major attraction of the Pahalgam Valley is the beautiful Lidder River that flows through the Pahalgam town. In addition, Pahalgam sits perfectly at the junction of River Aru and River Sheshnag.
Pahalgam
Pahalgam is the base for pilgrims starting their journey for the Amarnath Yatra. There are many beautiful places to visit in Pahalgam that it is difficult to cover all of them in a short stay.
Get all the information you need to know about Pahalgam tourism like best places to visit in Pahalgam, attractions, best time to visit, travel guide, best way to reach & more with our exclusive tour packages for Pahalgam that come at the best deals.
Best Places to Visit in Pahalgam
Sheshnag Lake
Sheshnag Lake is a popular Pahalgam sightseeing location that is located almost 17 kilometres from the centre of the town. Tourists can find various types of fish in this alpine high altitude oligotrophic greenish lake. In addition, the lake has massive snow-capped peaks surrounded from all sides. In Hindu mythology, this lake is the home to the divine Lord of Serpents, Sheshnag. Due to this, many pilgrims from across the country come to visit this lake and offer their prayers.
Baisaran Hills
Baisaran Hills or famously known as the mini Switzerland of India is one of the top places to visit in Pahalgam. It is located just 5 km from the main town of Pahalgam in the Anantnag district. Tourists are awestruck by the picturesque beauty of green meadows, dense pine forests and snow-capped mountains surrounding Baisaran Hills. This location also serves as a campsite for trekkers trekking to Tulian Lake.
Betaab Valley

Betaab Valley, originally known as Hagan Valley or Hagoon Valley, got its name due to the movie Betaab. This movie was shot in this valley and visiting Betaab Valley becomes the top thing to do in Pahalgam. The valley is almost 15 kilometres from the centre of Pahalgam town. At the lower altitude, tourists can enjoy the lush meadows, mountains and dense vegetation. At a higher altitude, tourists can get an astonishing view of peaks covered with snow. Also, not to forget the main attraction of Betaab Valley – Bobby Hut where the movie Bobby was shot.
Tulian Lake
Tulian Lake is an alpine lake located southwest of Pahalgam. Due to its mesmerizing view, this lake is one of the best Pahalgam tourist places in the entire Kashmir. It is located at an altitude of 11,001 ft above sea level. The Tulian Lake trek is quite famous among trekkers and adventure enthusiasts. It is a long and moderately difficult trek as it consists of steep climbs. Upon reaching the lake, tourists can enjoy the blueish-green waters surrounded by Pir Panjal and Zanskar ranges from three sides.
Aru Valley
Aru Valley is a top Pahalgam sightseeing place located 12 km from the Pahalgam town. In summers, this valley is covered with spectacular meadows, lakes and green mountains during summers. On contrary, Aru Valley is covered with snow in winters and hence it is famous for various skiing events. This valley is also the base for treks to one of the marvellous trekking locations – the Kolahoi glacier.
Best time to visit Pahalgam
March to November is the best time to visit Pahalgam. During these months the temperature is between 12 to 30 degrees.
How to reach Pahalgam
Flight
The nearest airport is Srinagar and well connected with major Indian and a few international cities as well.
Road
Pahalgam is well connected with rest of Kashmir Valley. You can choose to go in a private vehicle or opt for buses that operate to Pahalgam.
Train
The nearest railway station is the Udhampur railway station located around 218 km from Pahalgam. You can go in private buses or vehicles from the railway station to the city.