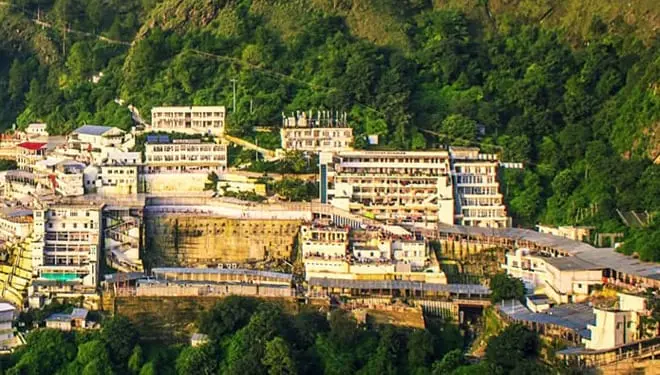 Katra Travel Guide
Katra Travel Guide: Katra is a very famous hill station in Jammu and Kashmir. It is located approximately 42 km from Jammu at the foothills of the Trikuta Mountains. The holy pilgrimage site of Mata Vaishno Devi is a famous tourist spot and one of the best places to visit in Katra. There are more than hundreds of tourists visiting Vaishno Devi every day. Additionally, there are many other tourist sites other than Mata Vaishno Devi like Bhairon Temple, Nau Devi Cave Temple, Ban Ganga, Jhajjar Kotli, Dera Baba Banda and Himkoti etc.
Katra
Katra has several hidden gems and is a paradise for nature lovers. There are various temples, caves, waterfalls as well as hill stations in Katra. Apart from this, there are several famous things to buy in Katra such as leather goods, carpets, dry fruits and more.
Get all the information you need to know about Katra tourism like top tourist attractions, best places to visit in Katra, travel guide, best way to reach & more with our exclusive tour packages for Katra that come at the best deals.
Best Places to Visit in Katra
Mata Vaishno Devi
Vaishno Devi is located in a small town in the Reasi district. It is the main attraction of Katra. Vaishno Devi is the second most visited Hindu pilgrimage destination in India. The holy pilgrimage to Vaishno Devi begins at the base in Katra. Devotees from across the country come to Vaishno Devi and offer their prayers to Mata Vaishno Devi. It is said that she herself gives a call to her devotees to visit and fulfils all her devotees' wishes.
Nau Devi Cave Temple
Nau Devi Cave Temple is on the top of Katra's famous things-to-do list. Temple is located approximately 9 km from the centre of the town of Katra. Although the cave is small, it is said to be over 200 years old. Tourists come here and offer prayer at the temple of the nine goddesses.
Ban Ganga

Ban Ganga is a famous tourist place near Katra Mata Vaishno Devi. This river flows through Katra town and is the Chenab River's tributary. Devotees visiting Mata Vaishno Devi take a holy dip in the Ban Ganga River before proceeding to visit the temple. According to Hindu mythology, one day Mata Vaishnavi was going to a cave accompanied by a monkey. The monkey was thirsty and there was no water source nearby. Mata Vaishnavi shot an arrow in the earth and water sprung out. Since then, this river has been called Ban (Arrow) Ganga.
Jhajjar Kotli
Jhajjar Kotli is a picnic spot cum resort located on the banks of Rivulet Jujjar near Katra. It is almost 35 km away from Jammu and is a famous picnic spot near Katra. The main attraction of Jhajjar is the refreshing water flowing from the freshwater stream. This location is famous for the scenic beauty of the area surrounded by a couple of tourist bungalows.
Himkoti
This is the best alternative from all the religious tourist's spots in Katra. Himkoti is a viewpoint on the way to Vaishno Devi temple via the newer route. Tourists can enjoy a panoramic view of the valley. In addition to this, beautiful gardens, an artificial lake, and a meditation centre is being developed by the Mata Vaishno Dfevi Shrine Board. Here, the Shrine Board has also provided facilities like oxygen cylinders, medical care, and cassettes.
Other popular places in Katra: Sanasar, Ranbireshwar Temple, Dera Baba Banda, etc.
Best time to visit Katra
March to November is the best time to visit Katra. During these months the temperature is between 12 to 30 degrees.
How to reach Pahalgam
Flight
The nearest airport is Jammu and well connected with major airports in India. You can get a cab from the Jammu airport to Katra.
Road
Jammu and Kashmir State Road Transport Corporation buses operate to and from Jammu to Katra at regular intervals.
Train
The nearest railway station is Shri Mata Vaishno Devi Katra and the Udhampur railway station located around 1 km and 42 km from Katra city respectively. Taxi and cab services are available from the railway station to the city.