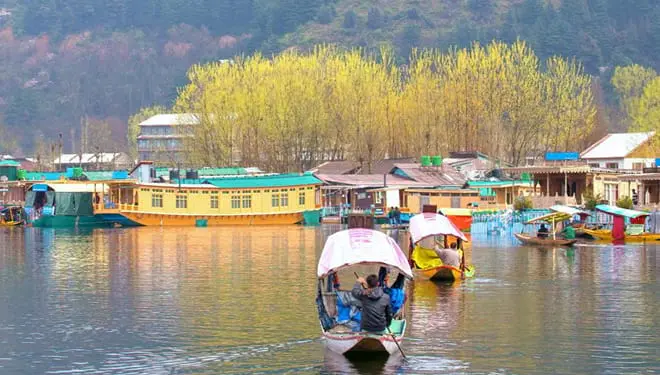 Srinagar Tourism
Srinagar Tourism: Heart of Kashmir valley – Srinagar is the most beautiful and the largest city of the Union Territory of Jammu and Kashmir. It is situated at the bank of river Jhelum. This beautiful city is largely known as the "summer capital of India". With beautiful colorful gardens, vast meadows, lakes, houseboats, savor local cuisines and rivers, this city multiplies the joy of sightseeing especially when you're in colorful Kashmiri attire.
Srinagar
You'll find almost everything here from beautiful gardens to majestic mosques belonging to the Mughal era to national parks showcasing the Himalayan range. This paradisiacal city holds a touch of history in its heart with nature, culture and picturesque view.
History lovers can enjoy the beautiful sight of Hazratbal Shrine. It was built in the 6th century. There are many other monuments from the same era. Keep reading to know some of the best places to visit in Srinagar and calm down your wanderlust.
Get all the important information you need to know about Srinagar tourism like top tourist attractions, best time to visit, how to reach & more with our exclusive tour packages for Srinagar.
Best Places to Visit in Srinagar
You might wonder what are the best places to visit in Srinagar. Srinagar is a city of mountains, lakes, various pilgrimages and beautiful gardens. Prominent places among them are Hazratbal Shrine, Shankaracharya Temple, Hari Parbat, Kheer Bhawani Temple and Jama Masjid. You can also enjoy shopping at Residency Road, Lal chowk, Floating market, and Badshah Chowk. Here are some of the best attractions you can explore to know why history and nature lovers are smitten with its charm.
Dal Lake
Pride of Kashmir-Dal Lake is the most popular destination of Srinagar. The visual definition of the town spreads over 15 km. It's the second largest lake in J&K. You can see gigantic snow-covered peaks in this mirror-like lake. While you're riding in Shikaras you can buy saffron, handicrafts, edibles and even ice cream. You can also witness the sight of the majestic Pir Panjal mountain range, Chashme Shahi, Nagin Lake, Char Chinar and Mazar-e-Shura cemetery.
Tulip Garden
Tulip garden is one of the largest gardens in India. Every year, the Department of Floriculture, Kashmir makes sure that tourists will hold its sight in their hearts for years. This year over 1.3 million flowers of various shapes and hues bloomed in this beautiful garden. You can witness the blooming of Tulips as this garden has more than 60 diverse varieties. Dal lake and Zabarwan Range gives this garden a perfect background.
Pari Mahal
Pari Mahal – the palace of fairies, has a multi-terraced garden and splendid view of Dal Lake. This velvety green garden belongs to the Mughal era and holds historic importance. It was initially the Buddhists monastery and later became a learning institute for Emperor Shah Jahan's son, Dara. Wander around to witness unique views from each terrace and experience the architectural brilliance.
Shalimar Bagh

Shalimar Bagh is furnished with Persian-style architecture and expanded in 31 acre of land. It was built by Shahenshah Jahangir for his queen Noor Jahan. You can witness tree cover pavements built with polished stones and a canal flowing from the side. Each terrace portrays a different view of the garden. Thousands of tourists come every year to witness its horticulture charm.
Nageen Lake
Nageen lake impresses you with its peacefulness and calmness. Broadened with quaint residences and serene surroundings, this lake is perfect for Shikara rides. You can rent a houseboat to spend a perfect romantic evening with your soulmate. You can do a range of romantic activities designed especially for honeymooners. This immaculate lake offers a picturesque view of the snow-covered peaks of the Himalayas.
Hazratbal Shrine
The silvery-white mosque is a pious place for keeping the prophet's hair. You can witness the beautiful sight of Dal Lake and it also holds the divine and historic appeal of this place. Iranian and Persian architecture can be seen in the corridors of this religious place. Women can go only to the first part of the mosque. The unique blend of Mughal and Kashmiri style construction makes it the best place to see.
Shankaracharya Temple
In 200 BC, this temple was built on the peak of Shankaracharya Hill. This temple belongs to Shiva and also holds Buddhist significance. It also has some Persian scriptures built by Shah Jahan. You need to do a little trekking to reach its octagonal pavement. You can witness a breathtaking view of the valley below. For security reasons, cameras and mobiles aren't allowed inside the premises.
Nishant Garden
Garden of Joy – Nishant Bagh is a beautiful terrace garden situated on the eastern shore of Dal Lake. Covering 46 acres of the area makes it the second-largest garden. It was built in 1633 under the ruler Asif khan. It is next to Shalimar Bagh and has 12 terraces which represents an equal number of zodiac signs. You can see a rectangular pool in the middle. It was built by dropping a 15 feet high mountain spring.
Best time to visit Srinagar
April to September is the best time to visit Srinagar. During these months the temperature is between 14 to 30 degrees.
How to reach Srinagar
Flight
The nearest airport is Srinagar and well connected with major Indian and a few international cities as well.
Road
You can choose to go in a private vehicle or opt for buses that operate from Jammu to Srinagar.
Train
The nearest railway station is the Udhampur railway station from Srinagar. You can go in private buses or vehicles from the railway station to the city.