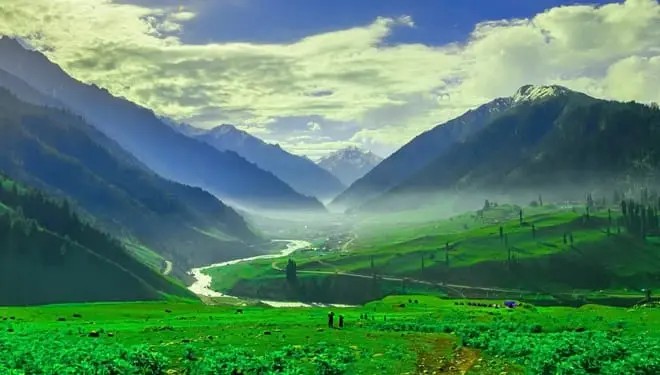 Sonmarg Tourism
Songmarg Tourism: Sonmarg which literally translates to Meadow of Gold is one of the must-visit places in Kashmir. It is located at a height of 8900 ft above sea level making it the best spot for adventure junkies and nature lovers. It is also said to be the gateway to Ladakh while travelling from Kashmir. The snow-clad peaks and mesmerizing valleys make Sonmarg a popular tourist destination in Kashmir.
Sonmarg
The river Sindh flows through the valleys in Sonmarg which gives a unique flora and fauna confined to this location. Depending on the season, tourists can witness differences in Sonmarg weather. Sonmarg in summer is quite pleasant and nature is blooming around making it the best time to visit Sonmarg. Tourists can visit various tourists spots and enjoy activities like snow skiing, rafting and more.
The distance between Srinagar to Sonmarg by road is around 81 km. Get all the information you need to know about Sonmarg tourism like top tourist attractions, best time to visit, travel guide, & more.
Top Places to Visit in Sonmarg
Satsar Lake
Satsar Lake or the Seven Lakes is located in the Ganderbal district in Kashmir. As the name suggests, this lake consists of seven alpine lakes interconnected forming a cascade-like structure. It is located at an elevation of 11811 ft above sea level and is spread across 4 kilometers.Tourists can witness unique alpine vegetation, peculiar fishes and aquatic life in and around this lake. Due to this, it has become Sonmarg's top thing to do for tourists.
Baltal Valley
Baltal Valley is one of the famous locations in Sonmarg located around 15 km north of Sonmarg. Tourists can get a spectacular scenic view of the surrounding from the height of 9000 ft above sea level. This valley can also be seen from the very famous Zoji La. Tourists visiting Baltal Valley get to experience the pristine snow-capped mountains along with several glaciers and waterfalls. The Sindh River that flows through this valley is the limelight of this location. Additionally, Baltal Valley is also the base campsite for Amarnath pilgrims.
Gangabal Lake in Sonmarg

Gangabal Lake is present at the base of Mount Haramukh in the Ganderbal district. It is situated at an altitude of 11700 ft and is a base for various famous treks. This oligotrophic lake is spread across 2.5 km and has distinct flora and fauna. This is one of the famous lakes in Kashmir for brown trout fishing (fishing only for certified fishers). Apart from this, tourists can also spot this lake from as far as Zaj Pass.
Zoji La
Zoji La is a famous mountain pass connecting the Kashmir Valley with Ladakh. It is one of the highest mountains passes in India and is of great significance. It served as an important point during the 1947-48 war. Located at a height of 11500 ft, Zoji La or Zoji Pass is the second highest pass on NH1. On one side of this valley, tourists can see the lush greenery of Drass, while on the other, the view of beautiful snow-capped peaks. Additionally, tourists need to cross this pass to reach Zero Point Sonmarg.
In addition to these places, adventure enthusiasts can trek to Amarnath Peak, Kolahoi Peak, Machoi Peak, Sirbal Peak and Nichnai Pass.