15 Best Places to Visit in Ladakh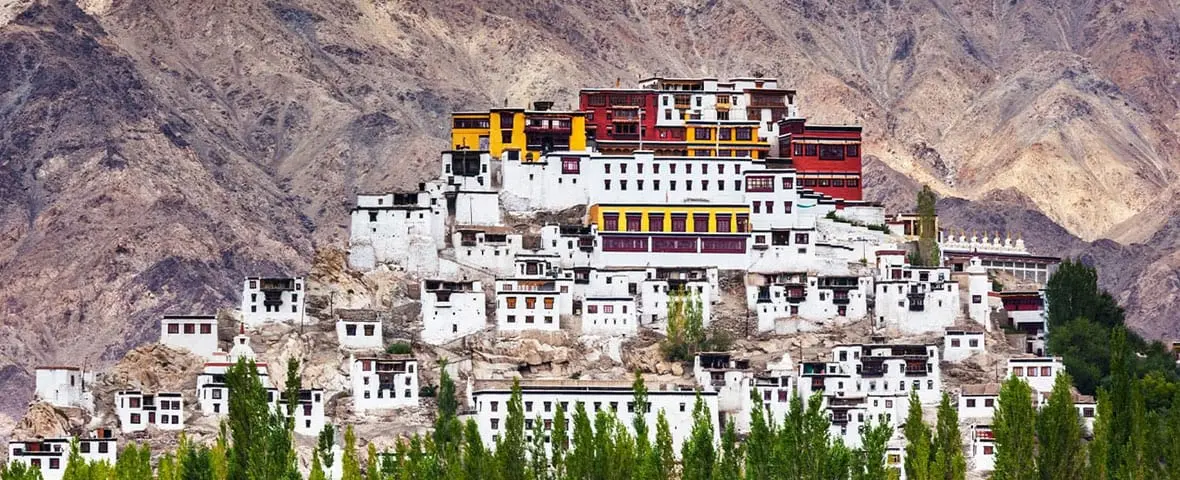 Top places to visit in Ladakh
Located at an altitude of 8370 feet above sea level, Ladakh is a beautiful high altitude white desert. Ladakh, which recently got its recognition as a union territory is a tourist's paradise. You can witness several natural attractions of Ladakh taking you through various lakes, the splendid blue skies, huge white desert with snow-capped mountains, deep valleys and more. In addition, there are several historical monuments mainly consisting of monasteries which are quite peaceful and mesmerizing.
Ladakh is a beautiful blend of Indian, Tibetian and Buddhist culture which live in harmony. You can see several temples, monasteries, mosques, gurudwara and other religious places. When it comes to the history of Ladakh, it has been a very significant location both politically as well as geographically. Thousands of people from across the country and the globe come and visit Leh Ladakh every year. There places to visit in Leh Ladakh for honeymoon, bike trips, adventure trips and more.
Now, let us quickly take you through the 15 best places to visit in Leh Ladakh.
Pangong Tso Lake
The very famous 3 idiots lake is a must-visit destination Ladakh has to offer. The names Pangong Tso means high grassland lake. Pangong is the world's highest saltwater lake situated at a height of almost 4350m. The most interesting part is that one-third of the Pangong Lake lies in India and the other two-thirds in Tibet!
You can spend hours here and get a chance to see the lake change colours, from blue, green and red at different times.
Khardung La Pass
Known as the bikers paradise, Khardung La Pass is the highest motorable road in the entire world. It is one of the top tourist places to visit in Ladakh and thousands of tourists and motorist visit this place every year. This pass is situated at an altitude of 17582 feet above sea level and is an important pass that carries goods and essentials to the Siachen Glacier.
Thiksey Monastery
Located on the top of the hill at an altitude of 11,800 feet, Thiksey Monastery is a gompa of Tibetan religion. Thiksey is very famous for its similarity with Potala Palace in Lhasa, Tibet. This is largest gompa and one of the beautiful Buddhist monasteries in central Ladakh. This monastery is famous for Buddhist culture, lifestyle, pilgrim activities, statues and even paintings.
Nubra Valley
Known as the moon space of Ladakh, Nubra Valley is a creation of the Shyok and Nubra (Siachen) rivers effects. It is an extension of the Tibetan plateau and separates Ladakh Range from the Karakoram Range. So what makes Nubra Valley special is the Diskit Monastery, Samstanling Gompa, Hunder Sand Dunes, Yarab Tso Lake and also the villages of Turtuk and Panamik.
To top it up, you can witness the famous double-humped Bactrian Camels in the sand dunes. You can take a ride on the camels and relish the breathtaking Hunder Sand Dunes. All this makes Nubra one of the best places to visit in Ladakh.
Markha Valley
Who wouldn't love a view of Ladakh and Zanskar Ranges from a single point! Markha Valley is located at 17,100 feet above sea level and the trail is alongside the river Markha. On the trail, you can see Kang Yisay and Stok Kangri peaks, small villages, made of mud-brick houses, and Buddhist gompas.
Tso Moriri Lake
Tso Moriri Lake is located in the Changthang region in Ladakh at 15,075 feet above sea level. Unlike the famous Pangong Lake, this lake is secluded which makes it serene and calm. It is 28 km in length and is 100 feet deep and you can see the reflection of the mighty snow-clad mountains in this lake. You can also witness some exotic migratory birds flying above this majestic lake.
Hemis National Park
Located in the eastern part of Ladakh, Hemis National Park has an abundance of flora and fauna. This national park is well-known for its high population of snow leopards and a wide variety of birds. Additionally, you can witness various Himalayan animals like the Asiatic Ibex, Tibetan wolf, the Eurasian brown bear and the red fox.
Shanti Stupa
The two-storey, white, dome-shaped monument called Shanti Stupa is one of the seven Buddhist Shanti Stupa across the world. It is located at a height of 11,841 feet above sea level on a steep hilltop. You can get an astonishing panoramic view of the surroundings from this place. The best time to visit is during the sunrise or sunset.
Suggestion: The monument looks marvellous under the moonlight!
Royal Leh Palace
This royal palace was built in the 17th Century for the royal family of Leh. It is one of the best places to visit in Ladakh near Leh airport which holds a lot of importance as it was invaded by many rulers. Despite witnessing decades of war and unrest, the royal Leh Palace hasn't lost its charm.
Interesting Fact: This 17th Century palace is 9 storeys and is one of the kind.
Other Best Places to Visit in Leh Ladakh
Zanskar Valley
Situated at an altitude of 13,154 feet above sea level, Zanskar Valley is one of the top tourist places in Jammu and Kashmir and Ladakh. The beautiful snow-capped mountains, Zanskar's sparkling water bodies and ravishing landscapes will make you awestruck. Adventure junkie will have a delight here as you can go trekking, paragliding and water rafting here. To get most of this destination, it is advised to stay here for 2-3 days and explore spots like Suru Valley, Shafat Glacier, Doda River, Sani Monastery and more.
Spituk Gompa
Spituk, which means exemplary, is an 11th Century monastery by Od-De. Currently, around 100 monks reside here. It is famous for its annual festival where a statue of Kali is revealed. The museum of the monastery has ancient masks, antique arms, other icons and numerous Thangka.
Magnetic Hills
When in Leh, one cannot miss this iconic location where gravity takes hold of your vehicle's steering while you relax back. Thirty kilometres away from Leh on the Leh-Kargil-Srinagar National Highway, you will see a board "The Phenomenon That Defies Gravity". At this location, the gravity will pull your vehicle upwards at the speed of 20 km/hour.
Constructed by Guru Rinchen Zangpo between the era of 958 and 1055 AD, Alchi Monastery is one of the most sacred and holy places in the entire world. You will observe here four different settlements with monuments that are dated in different times. You can also find some oldest paintings of Ladakh at Alchi Monastery.
Chadar Trek
The Chadar Trek is one of the most famous treks in the entire country. It is one of the natural attractions of Ladakh as, during winter, the Zanskar River freezes. People from across the world, people come and trek over the frozen Zanskar River and kick off that adrenaline rush!
Hall of Fame
To end the list, a visit to Leh Ladakh is incomplete without a trip to the Hall of Fame. This museum was created by the Indian army in memory of the brave Indian soldiers who sacrificed their lives defending our country during the Indo-Pak wars. Once you are here, you will definitely be filled with the utmost respect towards our soldiers and patriotism.
These 15 places made our list. Comment down if you would like to add some more places to this list that you feel is a must-visit place in Leh Ladakh.